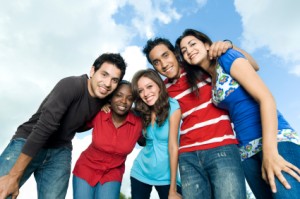 Developmental Assets® are 40 research-based, positive qualities that influence young people's development, helping them become caring, responsible, and productive adults. Based on youth development, resiliency, and prevention research, the Developmental Assets framework has proven to be an effective approach to positive youth development.
Over time, Search Institute studies of more than 4 million young people consistently show that the more assets that young people have, the less likely they are to engage in a wide range of high-risk behaviors and the more likely they are to thrive. Research shows that youth with the most assets are least likely to engage in four different patterns of high-risk behavior, including problem alcohol use, violence, illicit drug use and sexual activity. When they have higher levels of assets, they are more likely to do well in school, be civically engaged and value diversity.
The Legacy Center believes in the Developmental Assets framework and has been leading an effort since 2005 to encourage youth-serving organizations in our hometown of Midland, Mich., to instill asset building into their programs. As a result, the average number of assets among our youth population has increased from 19.9% to 21.9% and almost all risk-taking behaviors have decreased.
As a parent, you're probably asking yourself "what can I do?"
Become familiar with the list of assets,
Review this checklist to determine which assets your youth currently possesses, and
Encourage your youth to participate in youth programs that will increase their involvement with other positive youth, adult role models and opportunities to give back to the community in some way
Request a presentation about Developmental Assets